Northern Lights Festival Boréal is a must for music lovers.
When it comes to things to do and places to visit, I have to admit that prior to moving to Northern Ontario, Sudbury was not on my radar.  Was I ever mistaken in glossing over this Northern Ontario city!  As a music lover, Northern Lights Festival Boréal really appealed to me.  People from Sudbury and Manitoulin Island had mentioned the music festival to me, but for some reason, Summers seemed so packed with activities and events that I never made it to Sudbury for the festival…until this year.
NLFB is a non-profit, charitable music presenter in Northern Ontario. The organization provides valuable exposure and career development opportunities for emerging artists, while also presenting highly acclaimed artists, and keeping the region on the map for acclaimed touring acts.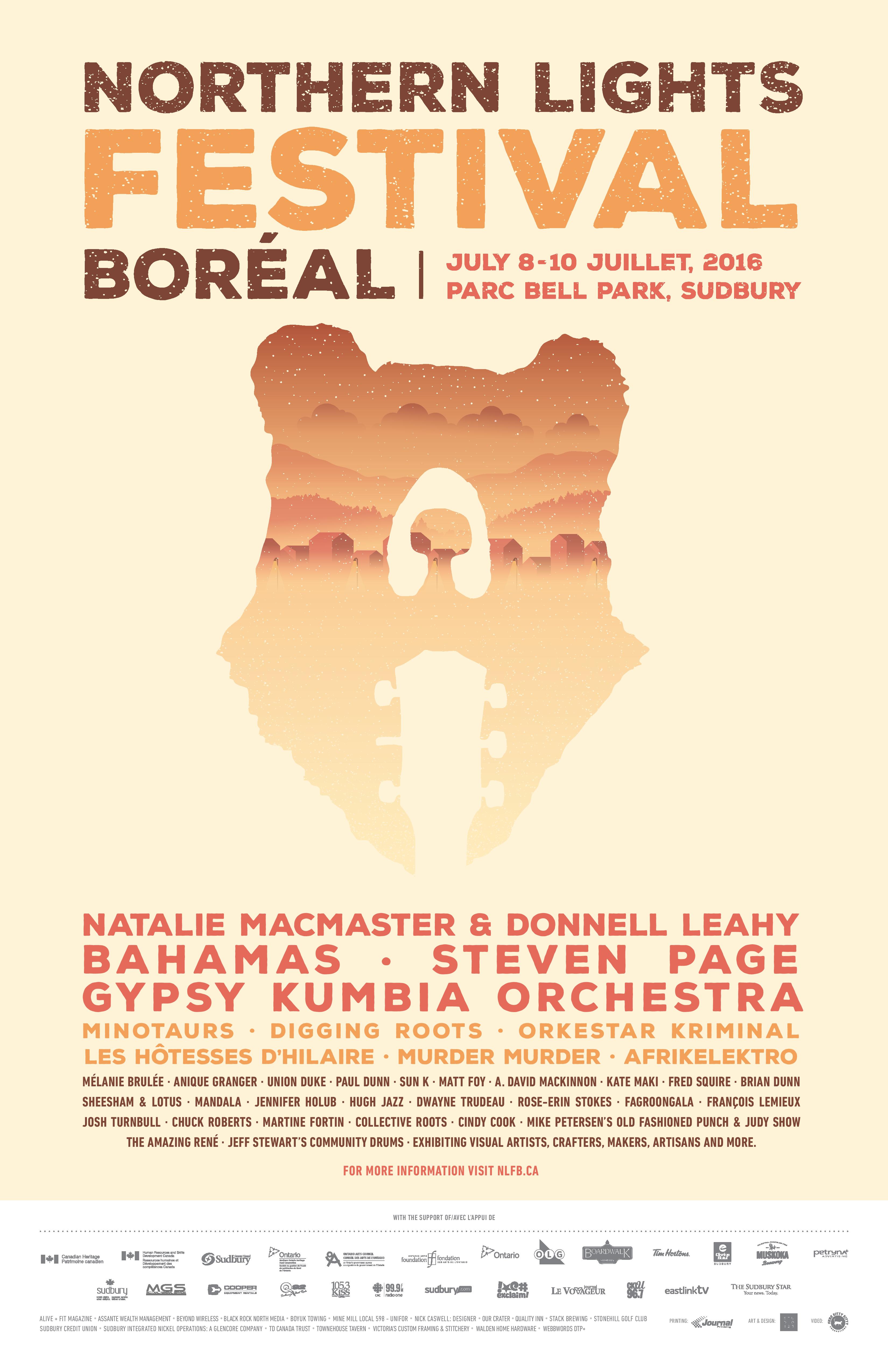 Featured artists include: Bahamas, Natalie MacMaster and Donnell Leahy, Steven Page, and a list of other talented musicians.
The rain did not stop the fans from appreciating the music!  Though we were only able to make it to the Friday evening portion of Northern Lights Festival Boreal, the experience was an excellent one.  To be honest, one of the main reasons I was so excited about NLFB was because of Bahamas!
A friend of mine is a huge fan and introduced me to the music and I have been hooked ever since.  There is something almost other-worldly about Bahamas' music.  Bahamas' music is a mix of Folk, Indie, Pop, and Rock.
Afie Jurvanen wowed the audience along with drummer Jason Tait, backing vocalist,  Felicity Williams, and guitarists Christine Bougie and Darcy Yates.  Bahamas' tunes just make you want to close your eyes, take in the incredible music and lyrics, and just dance.  Felicity Williams' voice is incredible.  She has quite the range and listening to her sing just gives me goosebumps…in a good way.  Absolutely incredible.

Isn't that just heavenly?
One of my favourite songs by Bahamas:

Some friends were also at the Northern Lights Festival Boreal, and the friend who introduced me to the music of Bahamas stuck around after their performance. We actually got a chance to meet Afie and Christine Bougie. I didn't think at our age that we'd still be starstruck, but we were. Afie and Christine were so awesome and friendly.  I didn't let anyone know, but I was totally doing the fan girl thing inside!
Check out Bahamas online and make sure to check out Northern Lights Festival Boréal. You'll be happy you did!
I was only able to make it to Day 1 of Northern Lights Festival Boréal, but wish I could have checked out all the other musicians performing that weekend.  So much talent! It would have been great to see all the other acts. The line-up of performers was really impressive.  Great vibes and excellent music.  Plus, we got to end the evening off with meeting Afie and Christine! Last time I was this excited about shaking a musician's hand was the time I met Bono when U2 was in Montreal for their Zoo TV Tour  back in '92. Fiends and I just happened to be at LaRonde when the band waltzed in at almost closing time! I don't think any of us washed our hands for a week because Bono shook our hands!  Anyway, I'm a lot older now.  I washed my hand, but meeting Afie and Christine Bougie was definitely one of the highlights of our Summer.
Connect with Northern Lights Festival Boréal on social here: Twitter, Instagram, Facebook
Disclosure – This is a sponsored post written in collaboration with Sudbury Tourism. All thoughts and opinions expressed on this blog are honest and my own.