WARNING: The following post contains links to adult material. You must be 18+.
I don't know about other couples, but as parents to a toddler, down time is hard to come by. I don't even remember the last time Hubby and I had a "date night"! I suppose the last time we went out sans toddler was when we attended a funeral last year. That hardly constitutes a date, in my opinion.
I do know at the end of a hard day, an evening at a spa or an hour at the massage therapist's would be ideal. Sadly, I don't even have time for that! However, EdenFantasys has a great line of products that are great for massage at home!
We've got the Treasure Trove Gift Tin (strawberry flavour) and really like it.
Great way to get that back massage and keep the romance alive. The warming gel works very well! It heats up within seconds. It goes on cool at first, and then the heat intensifies. The contrast is quite remarkable. Another item I love is the honey dust. To be honest, I was quite surprised. I didn't think I would like it, as I don't like products that are messy. Just the thought of "dust", be it honey dust or otherwise, leaves me feeling anxiety filled. Yes, I'm the kind of person who freaks if there's sand or crumbs in the bed. Everybody knows that the bed is no place for sand or crumbs! This is precisely why Hubby and the toddler know there's to be no eating, snacking, or anything in the bedrooms.
Back to the dust! I was pleasantly surprised at how much I liked the dust.I found that the honey dust left my skin feeling really soft and there was only a slight hint of fragrance, which is what I like. I'm not one for strong fragrances or scents, as they give me headaches. This was the perfect amount – just a light hint of sweetness.
Other products worth checking out for those evenings when you just need to relax and unwind are the candles! EdenFantasys has a vast collection of candles ranging from aromatherapy to massage candles!
I'm sure you'll find items of interest on the EdenFantasys website. Whether you're looking for quality products for at home spa/massage nights or something more risqué, I'm sure you'll find what you're looking for. Oh! Since it is October, and Halloween is almost here, you may even be interested in a little dress up evening too! Yes, they've even got Halloween costumes!
Since October is Breast Cancer Awareness Month, I thought you'd also be interested in this: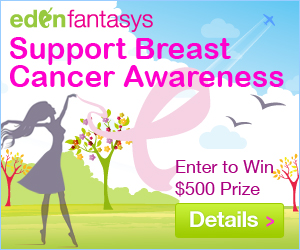 Disclosure – I received a gift card from EdenFantasys as a thank you for writing this post. The opinions on this blog are honest and my own.