WARNING: The following post contains links to adult material. You must be 18+. 
Keep the fire burning in your relationship with some fun items from
EdenFantasys
. Whether you're in the honeymoon stage of your relationship or wish to bring back the smoldering embers into a roaring fire, you'll be certain to find something on the EdenFantasys webpage that will appeal to you and your partner.
What woman doesn't want to feel beautiful and sexy in some pretty
lingerie
?
Babydolls
,
teddies
,
corsets, bustiers,
and gowns from EdenFantasys will make any gal feel her finest. C'mon…every girl wants a little
something
sexy in her closet! I'm not talking about having Eric Northman in your closet. I'm talking something to wear that's sensual, alluring, silky, or maybe lacy?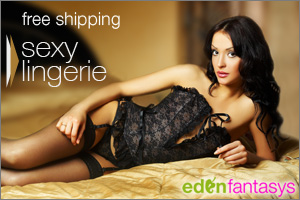 Set the mood for a romantic soiree with some
candles
and
scented oils
(among other items!) available at
EdenFantasys
. There are so many fun and exciting products to try out, from tame to the wild and
risqué
!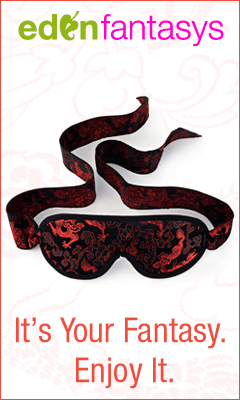 I have to admit that this is the first time I have ever written a post for anything of this nature. I don't know what happened, but as soon as I became a mom, I became more guarded about the things I say or divulge. It's not that I'm a prude or anything. There are just some things I feel uncomfortable about discussing since Little One now has very big ears and repeats everything! Plus, what happens in the boudoir stays in the boudoir. Right? Ha! Ha! I don't actually use the word "boudoir" when I speak about sexy things.
When the opportunity to write this post for EdenFantasys presented itself, I figured it was a great chance to reclaim that part of me that wasn't just "Mom".
As I perused the website, I came across the Party Favors and Gags. This brought back memories of bachelorette/stagette parties for friends (back in the day!). What a hoot! Oh, boy! There are items there that are sure to make my 91 year old grandma blush!
You can also earn free products through the EdenPoints Program at EdenFantasys. Points will be awarded by rating a product, adding products to your wish list, adding items to compare, writing a review, etc…
This might spice up your love life…unless you're already too hot to handle!
Pssssst! You can also get a FREE GIFT with any order!
Disclosure: I am also receiving a Gift Certificate to use from Eden Fantasys in exchange for a review of my opinion. The opinions expressed on this blog are my own.